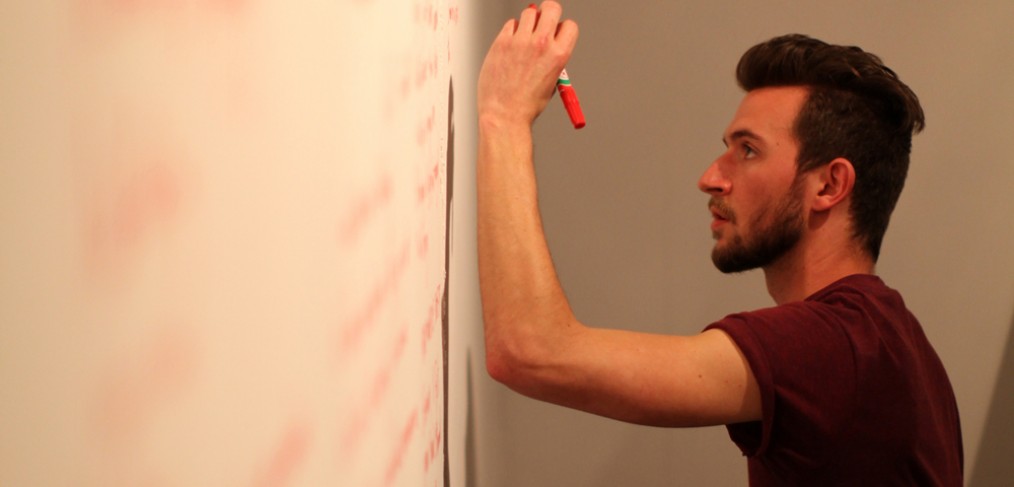 October 27, 2014
by admin
Sex Wall by Dosh Luckwell
Did you notice what was going on in the corner of the back room at the FECK:ART opening night? No, not the nekkid antics behind the black curtain – but something equally sexy, nonetheless.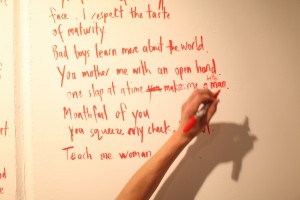 A blank white wall was slowly covered with the salacious words of sex poet and theatre maker, Dosh Luckwell. If you lingered long enough to read, he may have even asked you for some inspiration, weaving your desires into his improvised frank filth.
Here's his artist statement:
The Sex Wall is an experiment in improvised writing. This particular 
Sex Wall was created on the opening night of this exhibition. To generate the writing Luckwell asked event attendees to summarise their last sexual experience into five words. The words where then used an inspiration for a short sex poem that was written directly onto the wall before them. Sex Walls are an extension of a sister live art work by Luckwell titled the Sex Poetry Booth. Beyond poetry, Luckwell is a provactive performer and theatre maker. For more information on his somewhat sex centred arts practice visit Horny Pony Productions.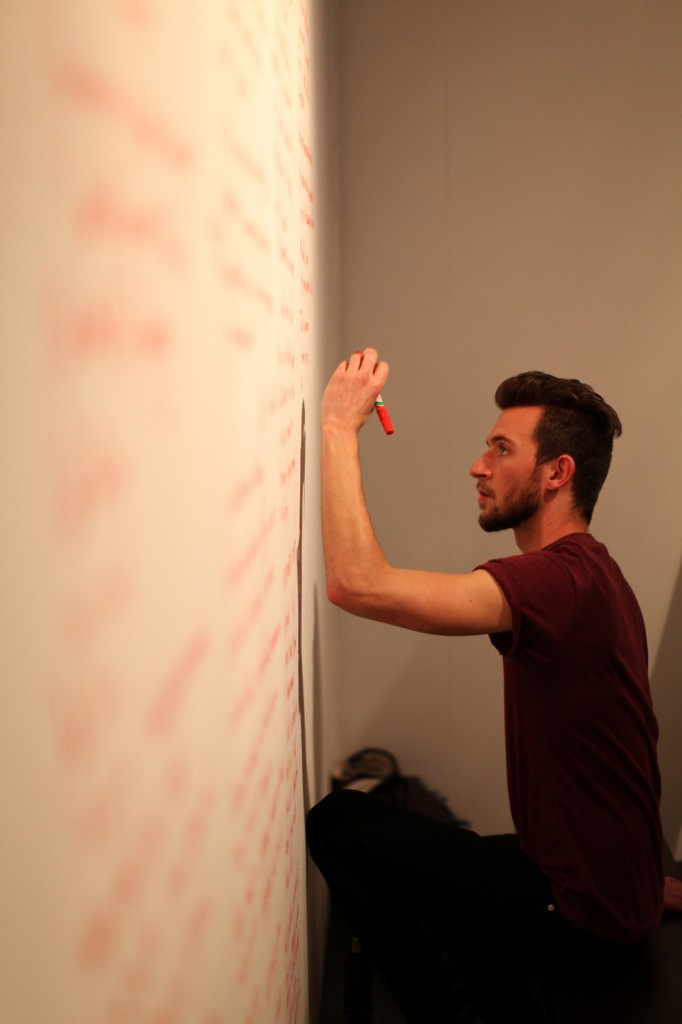 We were so happy to have the Sex Wall as part of the FECK:ART opening as a reminder of that art can turn us on in ways that porn neglects. Words! Remember words? How sexy are they!
Now that the exhibition is over, the Sex Wall will eventually be painted over. But here are some photographs and excerpts to digitally immortalise the hotness that was.
Sexy beats from the stereo conduct my thrust.
Cream leaks into speakers as we come.
Curl up. A little scoop of love.
In the morning, I adorn you with my lips.
You drive your cock into my kiss and whisper…
"Honey, let's just fuck away the winter."
"Lick my asshole, bitch.
that's it, I wanna feel your teeth."
– She spreads my cheeks.
Sniffs, licks.
"delicious,"
she's got good taste…
I arch my plate,
She nuzzles in, hungry puppy
dinner brewing, salacious
skin quivering, I'm shitting myself with expectations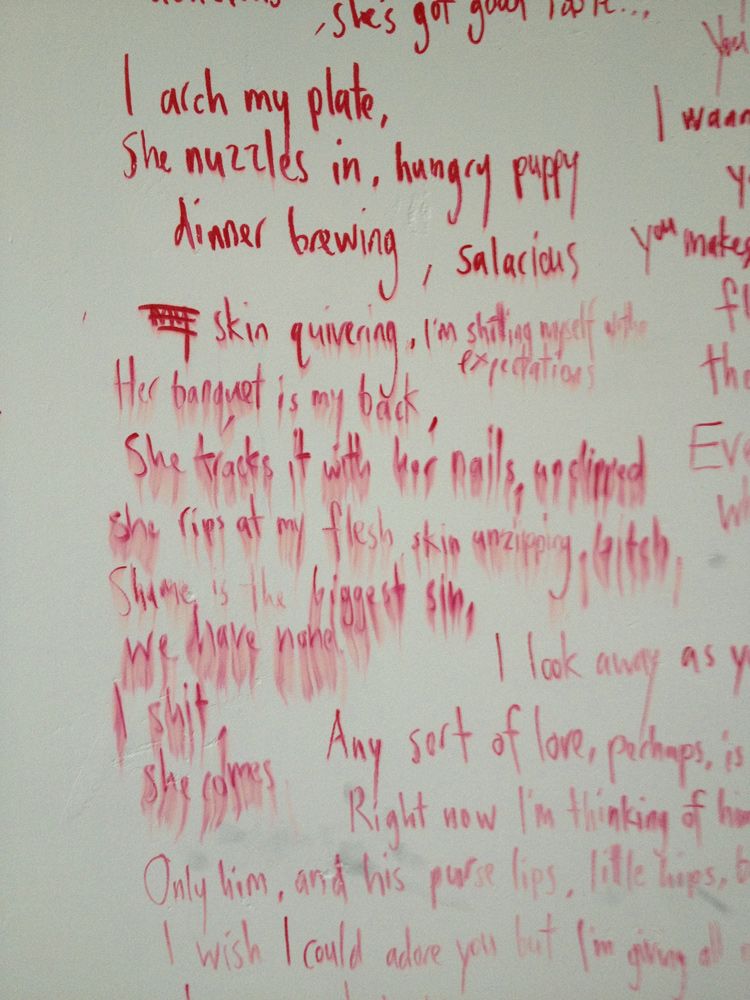 Anticipation, a moment of
silence as though we are
paying respect to the
majesty of sex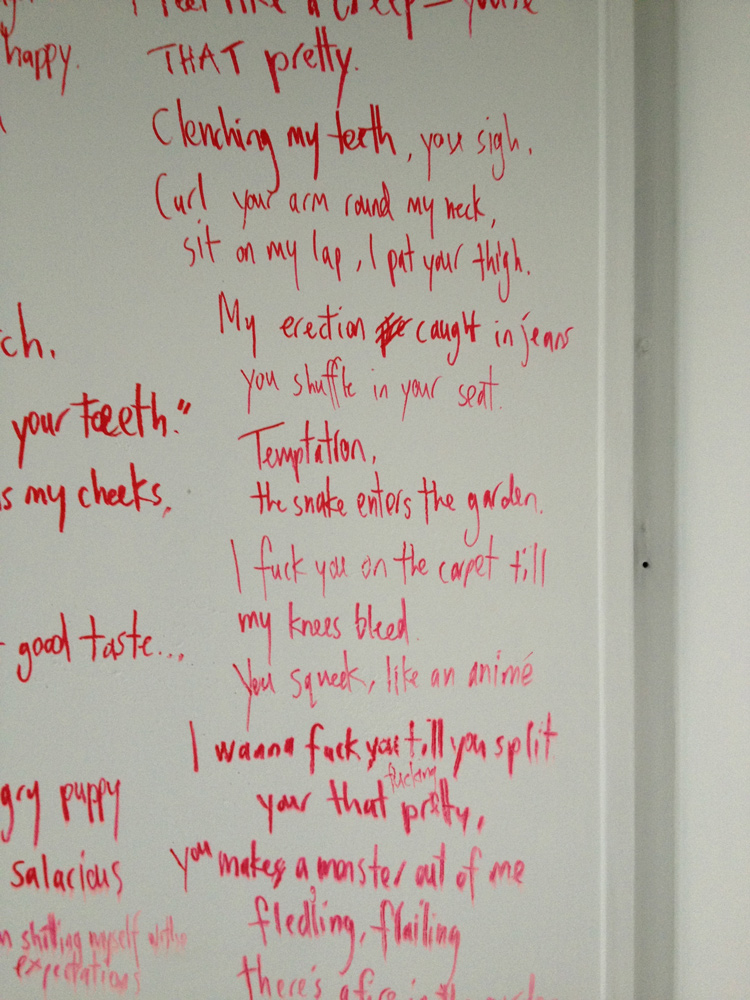 Totally Wild
like Ranger Stacy
strip me, animal embrace me
mid 40, buxom
treat me as a son
but I'm more naughty…
You floor me, on all fours
you pin me. Spit on my
face, I respect the taste
of maturity.
Bad boys learn more about the world.
You mother me with an open hand.
One slap at a time makes me a better man.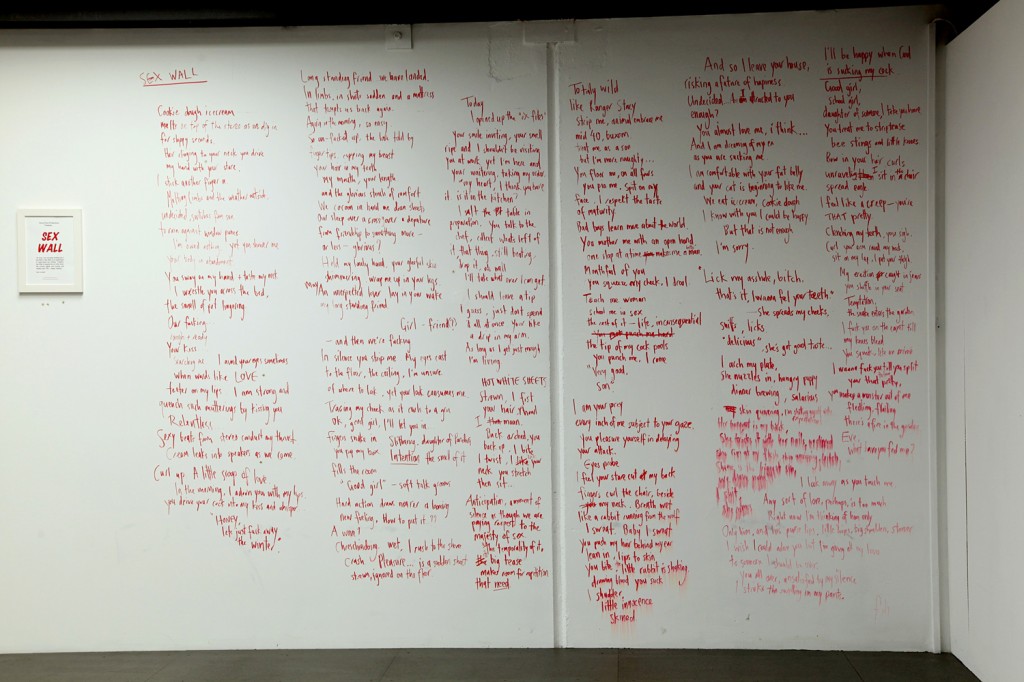 Dosh has previously won the Best Live Art award at the 2012 Melbourne Fringe for the interactive installation, "Sex Poetry Booth".