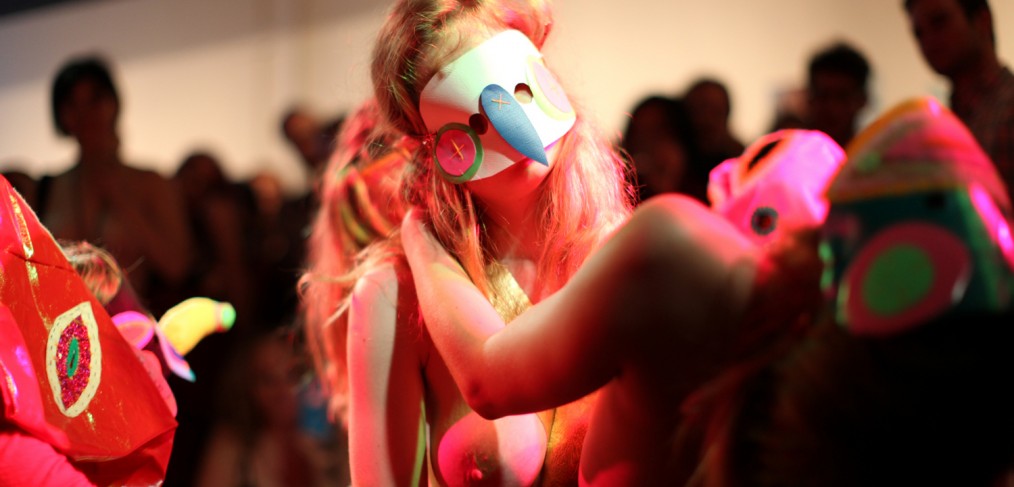 October 21, 2014
by admin
Live Performance Art at Opening Night
If you were there – or even if you weren't – you'll be aware that there was a LOT going on at the FECK:ART Opening Night. We were very lucky to host some talented artists as they realised their performance art ideas in our space.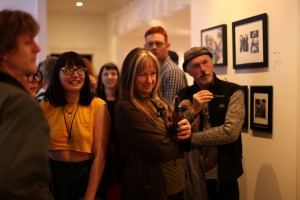 Erosaic – the voyeur spot was a huge panel of screens, linked up to cameras placed in a booth. The artist, Margot Apotheloz, a self-proclaimed, fervent erotica lover, invited attendees to enter the booth and show the crowd what turns them on. The installation was inspired by Margot's disaffection with porn's obviousness, and her desire to leave space for the imagination.
Anyone who was watching the screens knows that the invitation was indeed accepted by our more exhibitionist attendees, resulting in some very sexy – and some hilarious – voyeurism.
Apotheloz's statement:
Erosaic – the voyeur spot. Wanna take part in Erosaic? Does what you are currently watching inspire you? Wanna add your piece to the puzzle? Wanna have your moment in the sun (yeah I know it's pretty hot around here!)? Just pull the curtain and show the cameras what erotica is for you – I can't wait to know!
If you came to the event after 7pm, there would have already been a smattering of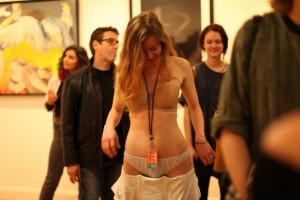 nudity throughout the crowd.
This was the result of a somewhat literal "flash mob," that simultaneously stripped in a realisation of an anonymous artist's live art proposal.
As participants throughout the space disrobed, the following statement for the untitled piece was read aloud:
Eroticism cannot be banished to the realm of art, or porn, or kept in a container, separate from ordinary life. Eroticism is ordinary life. It can be found everywhere – on the train platform, at the crosswalk, across the counter from you, and under your sheets. Standing next to you at an art gallery. Eroticism is beauty, a moment which has meaning to nobody but you. Eroticism is a secret, revealed. Why does porn fail? Porn fails because it takes a tiny slice of human aesthetic and fetishizes it into enormity, drowning us in quantity until we almost believe the untruth – that this little slice is the whole. But look around you. The world is full of eroticism, brimming with sexuality. Every naked body is beautiful, and arousal is inspiration.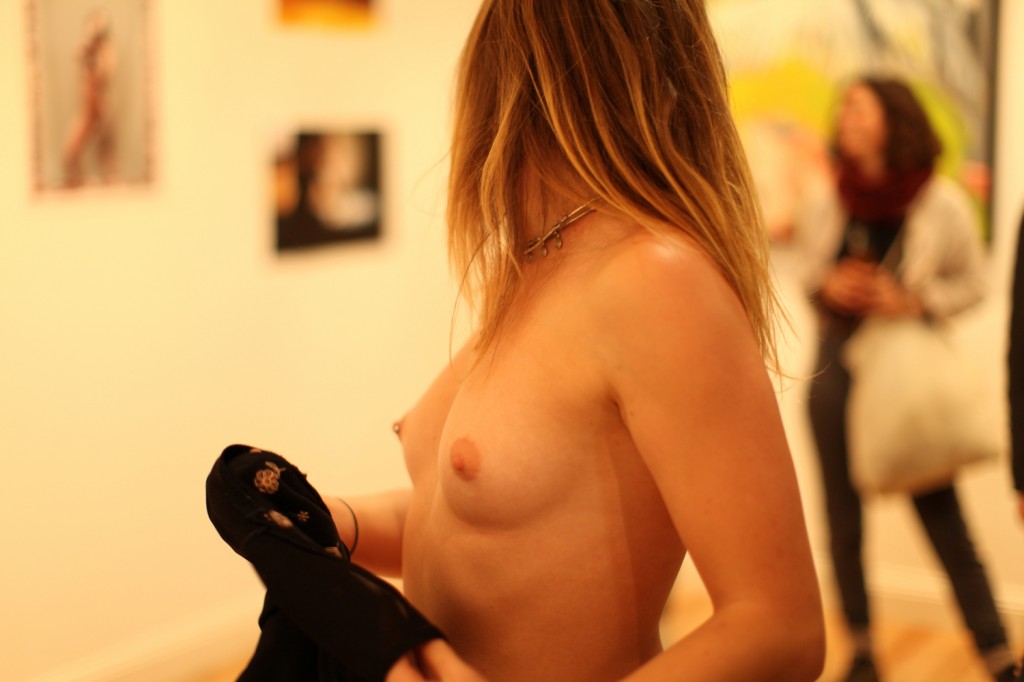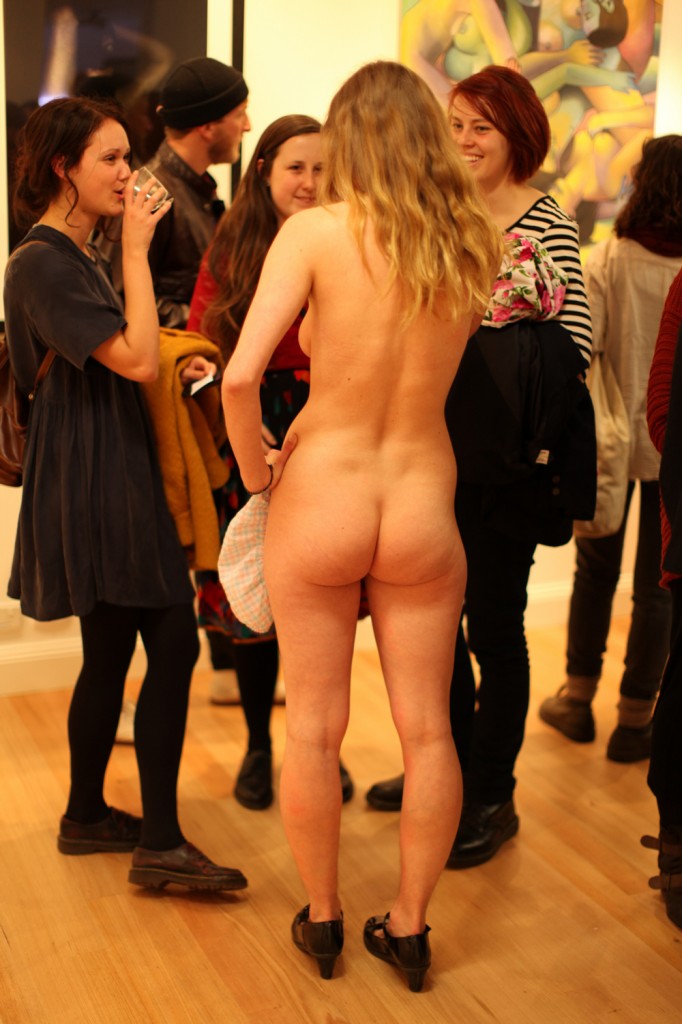 If you were wondering why there was so much glitter on the floor, then poor you! You must have missed Amanda Wolf's performance piece, This Mess We're In. Appearing as if from nowhere, partially naked, masked creatures met in the centre of the room under the pink lights and writhed in a pile on the floor in increasing frenzy. Tearing pieces of clothing from each other's bodies, and spurting golden and stringy ejaculate from fabric costume phalli and orifices, they climaxed, leaving behind a glittery aftermath.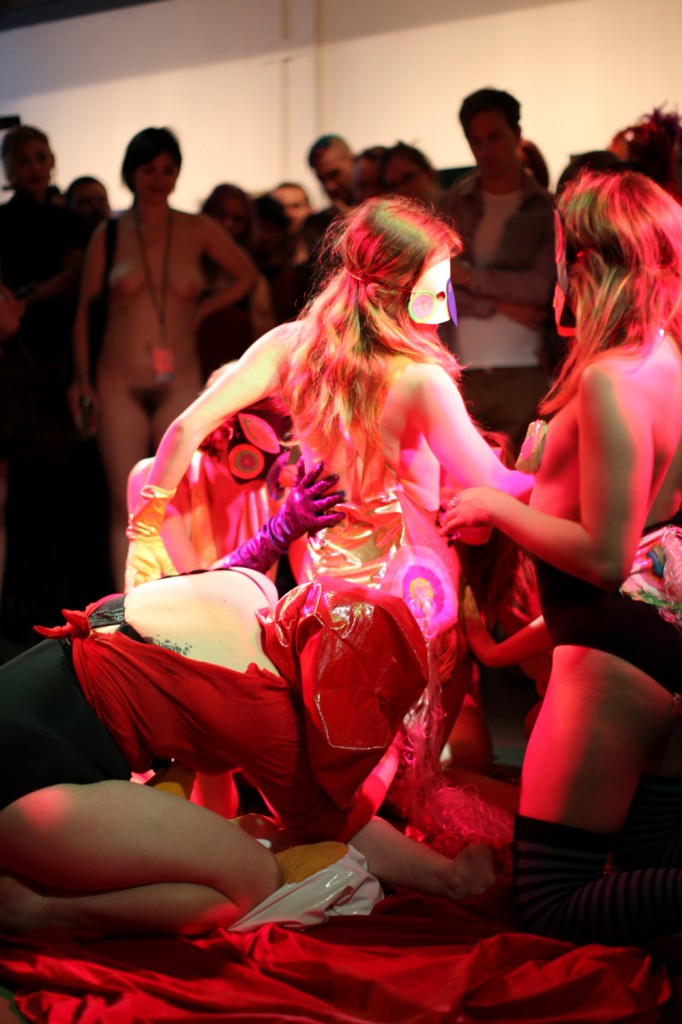 The artist statement:
Amanda Wolf is a trans-disciplinary artist who examines the awkward terrain between desire and disgust in relation to the sexual body. 'This mess we're in' is a performance work which engages with physical desire and abject excess within the collective body. Exploring the act of touch as an expression of pleasure, this work playfully exaggerates the mechanisms of concealment, stripping and expulsion in a sensual and frantic parody of orgasmic lust.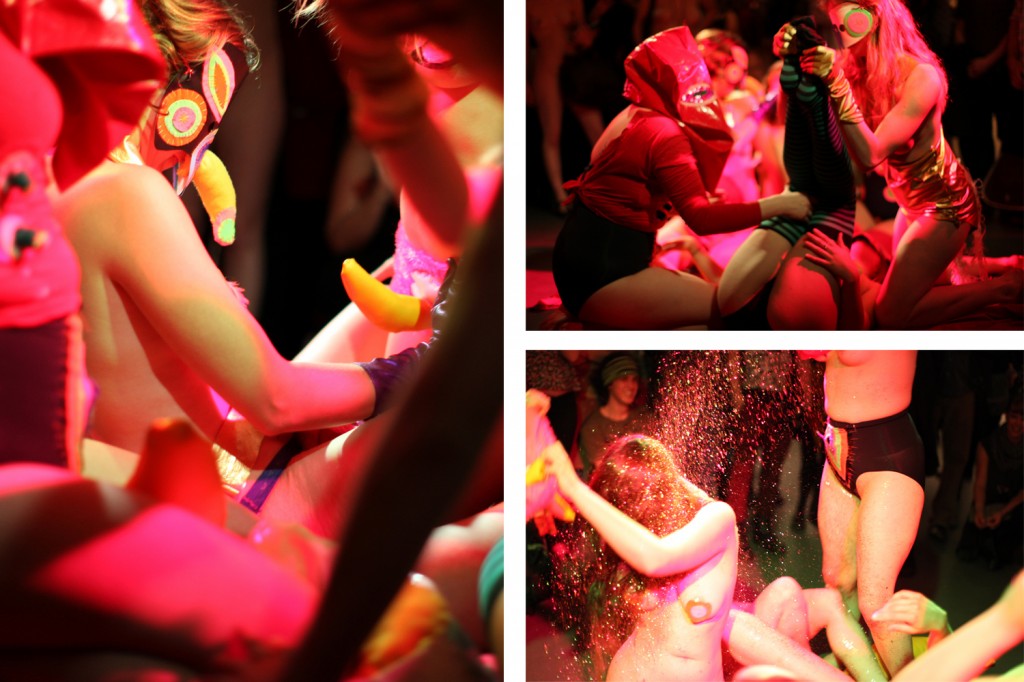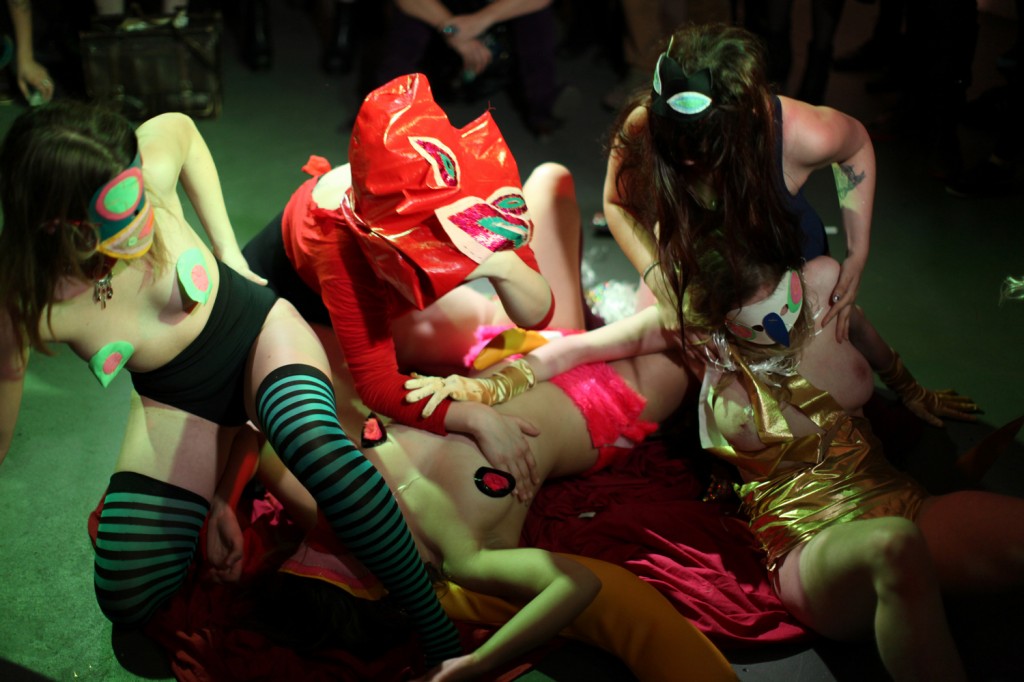 Amanda Wolf also exhibited a photographic work in FECK:ART.
In the other ongoing live art piece, Sex Wall by Dosh Luckwell, members of the crowd were asked to summarise their last sexual experience into five words, which served to inspire Luckwell's improvised sex writing. More pictures and excerpts of the resulting poetry can be seen in this post.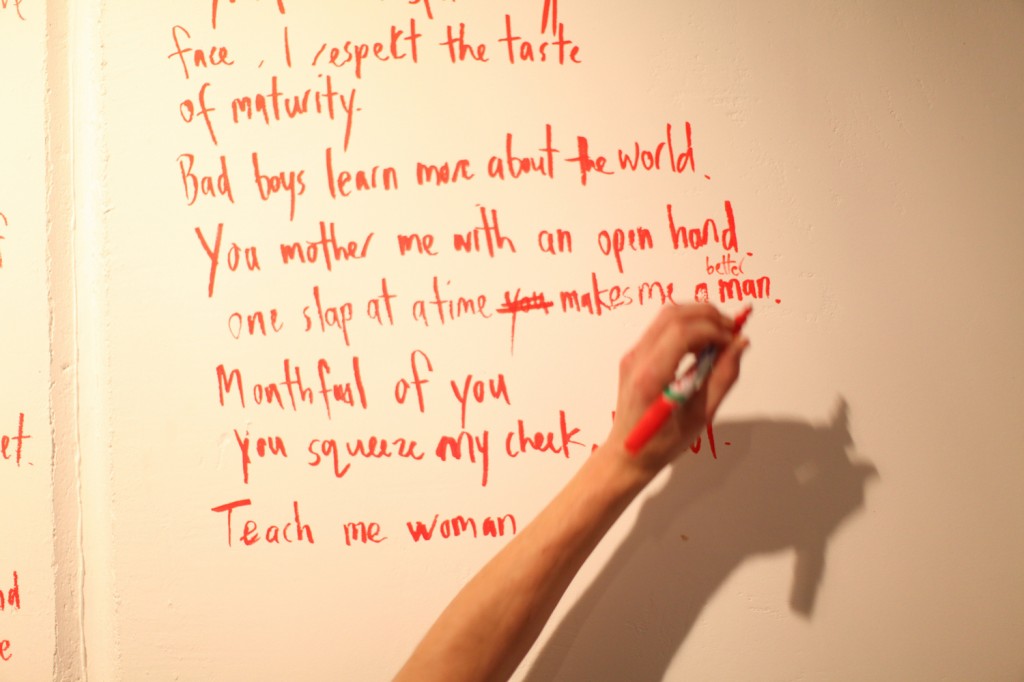 We hope you enjoyed all the surprises that were in store at FECK:ART 2014. Our only worry is how we can possibly top it next year! If you have an idea to propose, please get in touch early 2015. But for now, we might just take a couple of months to recover from all the excitement!
For more pictures from Openining Night visit our Facebook album.